There have been a lot of animated franchises whose stories revolve around the idea of ​​heroes working for revenge, with the likes Rambunctious bowels, The attack on the Giants Eren Jaeger, and Lelouch Who Code Geass Serve as just a few examples. but, Vinland Saga Season 2 decided to take a very different approach, following the protagonist who has his revenge on Forever and how he lives with that fact. In this story from creator Makoto Yukimura, protagonist Thorfinn finds himself at a nihilistic crossroads and the series hasn't gotten any better because of it.
The end of Season 1 was one of the most shocking moments in anime history, as Askelade, the man responsible for the death of Thorfinn's father, sacrificed himself to prevent the former King of England from stepping on his people. With the majority of the story revolving around Thorfinn becoming stronger than ever trying to defeat Askeladd in single combat and avenge his father's death, Season 2 opens with a very different version of the young, fiery Viking we once knew. On top of this change in his character thanks to the death of the target of vengeance, season 2 hardly focuses on the battlefield, instead focusing on the boredom/brutality of farming, and the series just got the better of it.
Viking by any other name
While we don't know the exact steps that led to Thorfinn becoming a slave after Askelade's death, it's almost unnecessary since the attacker becomes a shell of his former self, not attempting suicide outright but having no problems if someone were to catch him. With a sword to his throat, he deals a fatal blow. Without his revenge, Thorfinn has no purpose and his current farming goal seems like a quest he throws himself into in order to forget his past and have something to occupy his time.
Of course, Thorfinn isn't alone this time around, as he's joined by Einar, a young man whose family has been decimated by war, and who now finds himself trying to gain his freedom by cultivating a wheat field. While Thorfinn has been crushed by his past, Einar has a never-ending sense of optimism that makes the pair play well with each other. Thorfinn's constant stoicism is slowly but surely washed over by Einar's infectious personality, making for an intriguing back-and-forth.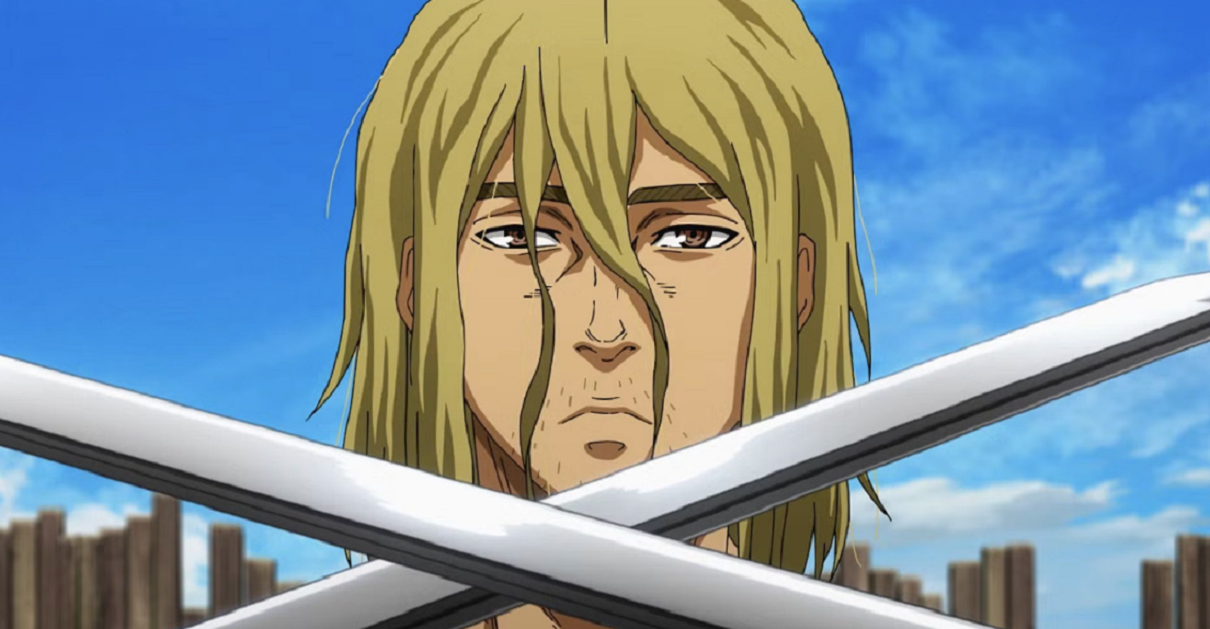 Some of the episodes that have happened so far this season don't even focus on Thorfinn, but instead focus on the politics of both the landowners and would-be kings. Canute, a would-be ruler who was given a crash course by Thorfinn in season one, is back on a path showing his rise to power as England's next king. This story, though reduced to a single episode, feels natural and shows how war can "usefully" change a person, showing the inhumanity of what's necessary to take a crown in this sinister cartoon universe based on real-life events. On the flip side, we have an episode that focuses on Thorfinn and Einar's landlord, Ketil, as he encounters two young thieves stealing his land. Despite Ketel's reputation as a brutal warrior who earned the nickname "Iron Fist Ketel," this tale centering on the fate of thieves, and Ketel's unpredictable nature, is a fascinating one. It is a window into society's expectations that conflict with the individual's personality and the image he presents to the world.
I'd be remiss if I didn't also mention the change in animation style, which feels appropriate here since this is a very different part of Thorfinn's life, and despite MAPPA's intimidating workload, the studio is able to carry the torch for Wit, in a similar way as they did with The attack on the Giants.
Vinland Saga Season 2 does well in not only showing the after-effects of this bloody, brutal scene, but also finds its heart in showing the daily lives of its residents trying to survive and, perhaps more importantly, trying to find purpose in a world stacked against them. Even if you weren't aware of what happened in Season 1, Season 2 of this bloody tale of the Northmen is definitely worth your time.
How do you think the second season of Vinland Saga Compares to his first season so far? Feel free to tell us in the comments or hit me up directly on Twitter @EVComedy to talk all things comics, anime and the bloody world of anime vikings.